Petty Cash Management
Every day secretaries in many companies fill out petty cash vouchers manually and then later on the accountant or whoever is responsible has to record the voucher into a system! So why not just make this one process managed by one person in just one workflow?
With this in mind Uhasibu is providing you with a system where you can manage your small daily expenses as they occur and have this information digitized directly. At the close of each work day, a report in the form of an email notification is generated from all the workflows recorded in the system and there is no more need of a follow up at a later date.
What the system does is that it removes the work load of tracking the petty cash funds and periodic funds reconciliation. During a normal manual funds reconciliation, the person in charge is required to count the money in the petty cash box and balance the check book, then they are required to total the disbursements. To find the petty cash totals they need to add the cash at hand to the disbursement total. If any differences, then they are required to carry out an investigation and determine why these differences are arising. Finally they document any shortages or surplus and include in the top up requests. This whole procedure is tiresome and might end up in conflicts in the organization thus creating a bad working environment.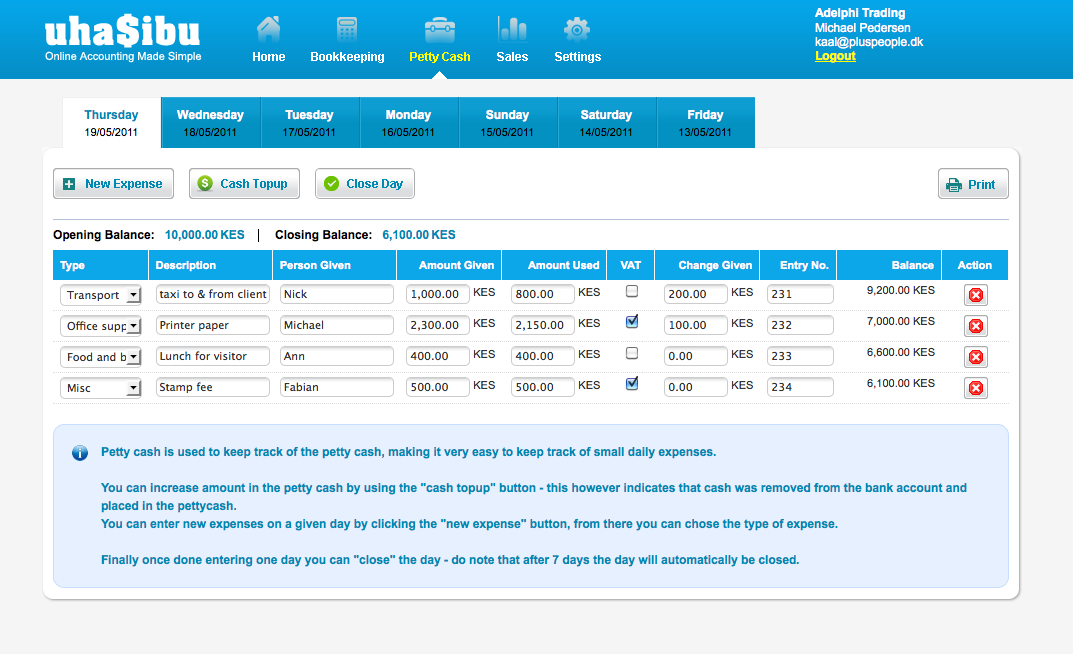 Uhasibu therefore provides you with a solution to deal with all these issues in just one workflow. Everyday, at the opening of the day, the petty cash section shows you the opening balance. It goes on to automatically updates itself every time money is removed from the petty cash box and every time money is added, as in the case of change being returned or a top up made for the petty cash box. If all these transactions are timely recorded, then at any one point your petty cash account balance is up to date and free of any errors.
Anytime a petty cash payment is required to be made, the petty cash section is completed showing –
Type of petty cash payment being made
A summary of the petty cash payment
The person handling the petty cash amount
The amount they are given
When they bring back a receipt, the amount they used
Any VAT charged on the purchase
And any change they have brought if applicable
This means that at every company meeting or on cue, the person in charge of the petty cash will always have detailed reports of how much petty cash was used in a specific day, week, month, year and how this money was allocated including all the deficits and who is responsible for them. In essence, the system provides you with a portal for the easiest and most manageable petty cash management procedure.